At Dangard A/S we are...
Specialists in surface treatment of small and large steel structures
With seven factories and more than 115 employees, DanGard A/S is Denmark's largest provider of surface treatment of large and small steel structures.
We have almost 100 years of experience in the industrial surface treatment market and employ more than 115 employees who deliver world-class quality surface treatment daily. The high level is documented through the company's management systems, where the processes are documented and audited so that DanGard A/S is proud to be both ISO 9001 and ISO 14001 certified.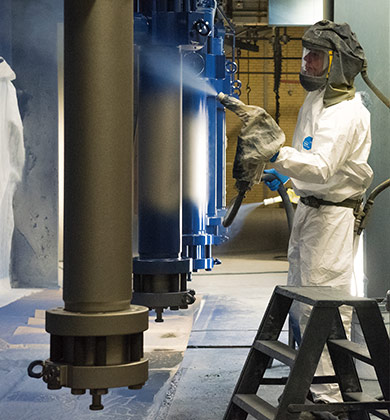 Quality
We want to put the customer at the centre and sell quality solutions at a competitive price.
Value
We want to add value for our customers by optimally protecting their constructions in all environments.
Surplus
We want to make a profit in order to be able to invest and develop the business. The world's leading industrial surface finisher.
Dangard A/S was established on 1 January 2020 through a merger of the factory activities of the Danish providers of surface treatment, Dancoat A/S and Gardit A/S.
Gardit was founded in Viborg in 1923 and is a Danish company specialising in surface treatment of standing structures. The company has been owned and run by the Laursen family for four generations.
Dancoat is run by the owner-manager, Henrik Matthiesen, and was founded in 2007. The company specialises in cleaning and corrosion protection of steel structures in all corrosion classes and paints everything from large steel structures, tanks, and silos to small parts.
The merger of the two companies' factory activities has taken place in the newly established company DanGard A/S, which is owned 50/50 and managed by the two owner-managers, Henrik Matthiesen and Morten Lindholt Laursen.