Due to our experience and know-how, we offer
World-class surface treatment
Dangard A/S was established on 1 January 2020 through a merger of the Danish surface finishers Dancoat A/S's and Gardit A/S's factory activities.
The merger of the two companies' factory activities has taken place in the newly established company DanGard A/S, which is owned 50/50 and managed by the two owner-managers, Henrik Matthiesen and Morten Lindholt Laursen.
Both companies have had the wind turbine industry as one of their primary customer relationships throughout their lifetime. Thus, they have thereby built up an experience base and know-how concerning practical quality surface treatment, which provides the opportunity to deliver world-class surface treatment.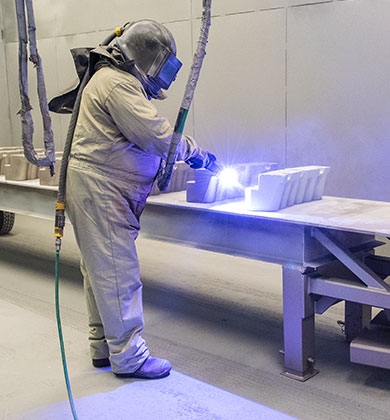 Capacity
With seven factories, we have the largest factory capacity in the world for surface treatment of large and small steel structures
Specialists
We clean, blast and paint all sizes of steel structures.
Documentation
DanGard A/S is proud to be both ISO 9001 and ISO 14001 certified.
We are specialists
Considerable demands are made on surface treatment.
Of course, considerable demands are placed on all stages of the surface treatment process, which it must be able to document down to the smallest detail from receipt to delivery. Dangard are specialists in surface treatment of all types of steel components regardless of size.
Are you looking for a specific employee?
If you need help with a specific challenge, contact one of our specialists directly.
Direct contact